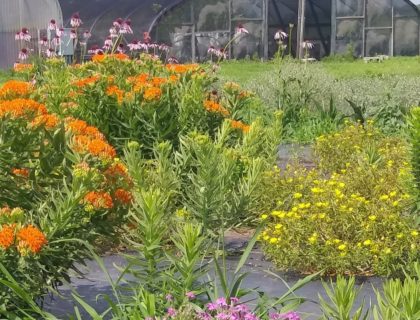 YELLOW SUNDROPS
Oenothera serrulata (Syn. Calylophus serrulatus) (Yellow Sundrops, Plains yellow primrose) is a plant without a lot of press, but it is amazingly beautiful.  Pictured in the lower right in the photo at the left. It blooms with Poppymallow, butterfly milkweed, pale coneflower and prairie phlox.  In the prairie, it is a diminutive plant,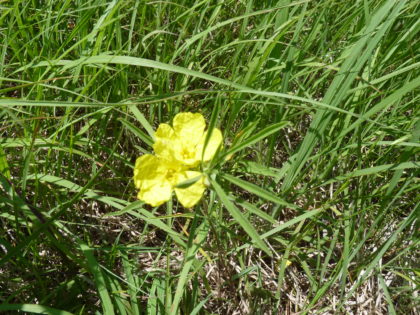 but in a landscape or garden, it is a mound with a semi-woody stem loaded with yellow flowers.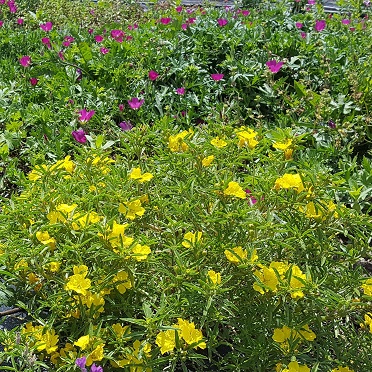 Unlike other flowers in the evening primrose family, this plant opens its flowers in the morning and closes them in the evening.   You will find it on rocky or sandy soils.  It tolerates high temperatures and drought.  Best of all, it continues to bloom from early June through September.  Members of this plant genus have 4 petals.  Five petals is the more common case among flowers.
Tiny seed appears in tubular capsules that develop below the flower petals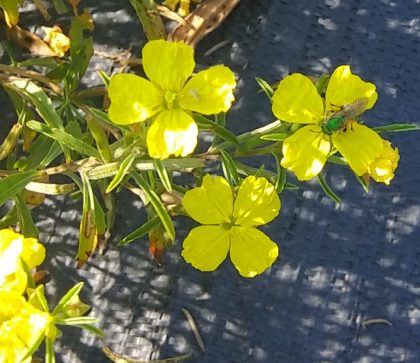 The stigma barely extends beyond the throat of this flower allowing for self pollinating.  Insect visitation and pollen transfer are unnecessary (Towner 1977). for fertilization.  This little plant has very few insect or disease problems.
Towner, Howard F. "The Biosystematics of Calylophus (Onagraceae)." Annals of the Missouri Botanical Garden 64, no. 1 (1977): 48-120. Accessed June 23, 2020. doi:10.2307/2395236.