Our Mission: Dedicated to living sustainably, Prairie Legacy strives to provide botanical services and products to foster environmental health and eco-friendly living.
We provide expert botanical surveys and sell many types of landscape plant material. Our specialty is native plants for landscapes and restorations. When possible, our native plant selections are grown from locally collected and genetically adapted seed with minimal inputs.
Our inventory includes over 200 species of perennials, trees and shrubs, expanding our native selections each year.  We provide educational opportunities to spread knowledge about the use of native plants to reduce the need for water and fertilization. Native plants provide habitat for native pollinators.  Native pollinators include monarch butterflies for which the habitat is declining.  Native bees pollinate our food crops.  Those who purchase our plants help protect the natural diversity of our planet.
The plants are grown on the family farm, which was settled by our ancestors, and we work to protect the local native prairie and woodland and to pass on the passion for preservation of small family farms and our tallgrass prairie legacy.
OUR TEAM
Kay Kottas, President, Owner of Prairie Legacy Inc.
Managing Member, Witt's End Homestead L.L.C.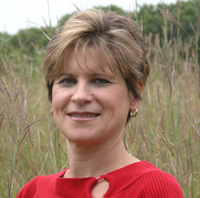 Kay holds degrees in Horticulture, Plant Biology and Environmental Studies. She is the managing partner of Prairie Legacy Botanical Consulting Services and Witt's End Homestead.  She taught Horticulture and native plant identification at the University of Nebraska for several years, and has provided plant inventories of natural areas including several U.S. Parks for the National Park Service in Nebraska and South Dakota, for Audubon's Spring Creek Prairie, in Denton, Nebraska, and for several private individuals. Kay conducted research on the endangered blowout penstemon for UNL.  She also worked several years in the Horticulture industry, and was manager of educational programs and plant records for the University of Nebraska Botanical Gardens and Arboretum.  Today, Kay brings her expertise to you offering sage advice to public and private companies and individuals.  Kay also won the 2006 "Blazing Star Award" for Contribution to the restoration of native plant communities from the Nebraska Statewide Arboretum.
Alicia Nugteren Admiraal
Alicia is a botanist for Prairie Legacy, Inc.  Alicia has a Master of Science degree in Ecology and Evolutionary Biology from Iowa State University with a specialty in wetland restoration, and a Bachelors of Arts degree in Biology and Environmental Studies.  In addition to experience in conducting botanical surveys and ecological assessments of native plant communities, she has done significant work with wetland and mesic prairie seed and plants, and wetland creation, restoration, delineation and mitigation.  Her expertise has benefited Nebraska plant communities through work with the Nebraska Game and Parks and the Nature Conservancy.  She has written numerous technical reports and informational guides regarding wetland restoration, has taught undergraduate courses in Botany, and has been a nature center teacher/naturalist.  She enjoys playing the piano, providing foster care for dogs awaiting adoption, and is very involved with her family and their school activities.
Click below to share our grass roots