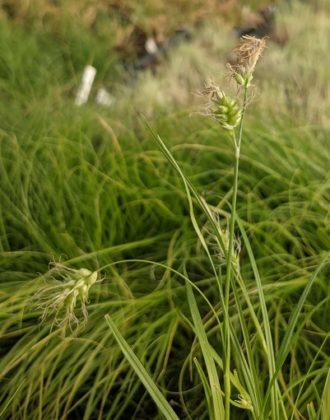 Our plant of the week this week is a sedge.  Like all sedges, it has a triangular stem.
Long-beaked sedge is one of the best sedges for shade, and makes a wonderful plant for dappled shade or sun.  It is an excellent filler for the landscape with gracefully drooping leaves which make a good backdrop for flowers such as woodland phlox.  This is one of the few sedges that thrives in dry shady areas to sunny moist areas, making it a great landscape plant.  And it can tolerate a variety of soils from loam to clay.
It is one of the earliest sedges to bloom and set seed, which ripen around Mother's Day.  Each fruit (containing a seed) has a long beak at the tip, hence the common name long-beaked sedge. An early botanist named Kurt Sprengel is the namesake for this sedge. Interestingly, he is noted for his work in studying the pollination of flowers by insects.  These flowers are wind pollinated. The seeds are eaten by Bobwhite quail, the Eastern Towhee, wild turkey and grouse.  The plant itself provides food for the larvae of the Eyed brown and  Appalachia brown butterfly.  A valuable part of our native ecosystem.