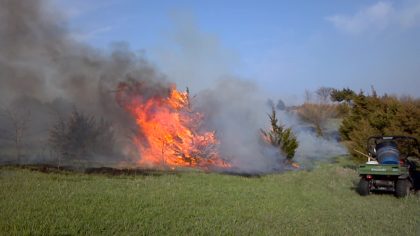 Prairie Management is what prevents prairie from moving toward a climax woodland community or being over run by invasive species..  The smaller the prairie or the more fragmented the landscape, the greater the chance for encroachment of woody and invasive species and the more potential management issues.
When planting anywhere near remnant prairie, we recommend you do not plant anything that has the potential to encroach on these rare communities.  In particular, no brome, no clover, and no wildflower mix from parts unknown. Plantings of this type can spread to nearby prairies and in a short time compromise the ecological integrity of  the natural community.
Management Activities
Generally management activities include reducing woody plant invasion,  removing non-native species and noxious weeds, and removing thatch layers.  Theses are accomplished by several means depending upon what tools are available to you.  Undesirable species can be controlled by hand clearing, shredding, prescribed fire, mowing or grazing and occasional herbicide treatment if absolutely necessary.
Where to get Help
Advice is available from several places including the local University, organizations such as Pheasants Forever, or from Prairie Legacy Inc.  For prescribed fire help, there are burn associations which can be located by Pheasants Forever.  These associations can help you develop a burn plan and help provide the labor to conduct a burn.  If there is no association near you, Pheasants Forever will often help you start one in your area.
Where to start with Neglected Remnant Prairies.
The first step in neglected remnant prairies is often tree removal.  It is true of Witt's End Homestead. Eastern red cedar, honeylocust, and osage orange were the primary problems for us.  Eastern Red Cedar are easy to control because they can be cut below the lowest branch and will not re-sprout.  They can also be controlled by prescribed fire when they are small.  Other species need an herbicide treatment to prevent re-sprouting,  We started by hand cutting unwanted trees, then followed with prescribed fire.  Occasional herbicide treatment of invasive species or haying at appropriate times along with a regular prescribed fire regime are our tools of choice.  Often haying of meadows provides very good management, however one should never hay the same field at the same time every year.  This allows for certain species to become dominant and often, they are the wrong species (see our Management Recommendations for Invasive Species below).
Controlling Unwanted species
One of the things we do here at Prairie Legacy is habitat survey work.  Last year, we spent a great deal of time assessing the condition of native prairie remnants held in easements for many years.  Several of these prairies were experiencing problems with invasive species. Some of the most common species invading prairies are Eastern red cedar, smooth and downy brome, yellow sweet clover, red clover, sericea lespedeza, St. John's wort, sulfur cinquefoil, and leafy spurge.  It is true that there really are very few places on earth, on which humans have not had an effect.  Unfortunately, this often requires human interventions to alleviate those effects. To help these prairie managers with those problem species, Dr. Kottas has created a small guide which includes a table with suggested practices by the month.  You can find this free guide here    Management Recommendations for Invasive Species in Prairies.   We hope you use chemicals sparingly.  This guide gives suggestions for both manual and chemical interventions.