Webinar: Changing the Conversation about Prairie
March 11, 2021 @ 7:00 pm

-

8:30 pm

FREE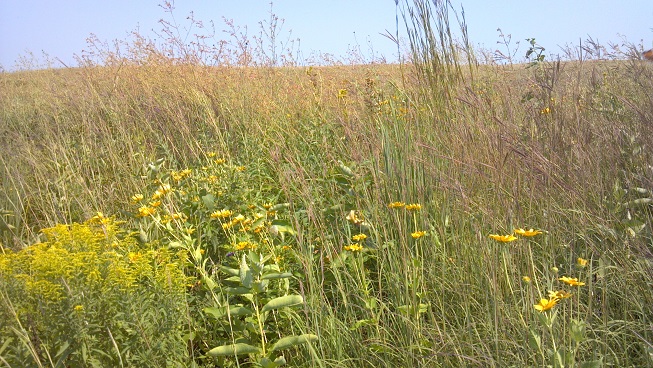 Changing the Conversation About Native Prairie
Pasture, grassland, CRP, rangeland, remnant prairie, bird habitat, weeds, hay field, pollinator habitat, hunting land, grass buffer, landscape, meadow, go-back land, ecosystem, real estate:  All names for prairie reflecting the view of the beholder.
Tallgrass prairie is the most imperiled ecosystem on our continent, and worldwide is second only to the rainforest in scarcity.  And yet our conversations about native plants and prairie are still focused on our own anthropocentric view of the world.
"I just want to get rid of the weeds (wildflowers) that are sucking the moisture out of my pasture"… local Cattleman on a pasture filled with Eastern Red Cedar and very few wildflowers.
"I don't have much use for native plants"…Horticulture instructor.
"What does it do?  What is it good for?" Local producer and rancher looking at Yarrow."
"We thought we were doing her a favor." Aerial applicator who sprayed native prairie with 2,4-D
What do all these statements or questions have in common?
The conversation about native prairie has revolved around its place in agrarian society since the early 1800's.  "The Great American Desert" is how Major Stephen Long, a government surveyor described the North American grasslands.  It is all in what we value.  Native plants as pollinator habitat is the new paradigm that has come into favor of late, but even that can be misguided if we are not careful.  Which, if any, view of the prairie will afford it the value necessary to preserve the remaining 1 or 2 percent?
Join Dr. Kay Kottas in a discussion titled "Changing the Conversation About Prairie".
Dr. Kay Kottas is a prairie ecologist, botanist, horticulturist, and former instructor of North American Native Plants, Horticulture and Botany at UNL and NE Wesleyan University.  As President of Prairie Legacy Inc., Kay travels the State doing environmental surveys and providing restoration consulting.   Kay is the chair of the Nebraska Seed and Plant Producers, an organization created to support and increase knowledge of and availability of the local ecotype plant material in Nebraska.   In 2010, Kay Kottas purchased the family farm, founded Witt's End Homestead, and began to transition the 160 year-old traditional farm into local ecotype seed and plant production.  Prairie Legacy makes these available online. Today, home is on the prairie and Kay is helping others to restore, preserve and understand the prairie in new ways.
Register at wachiskaaudubon.org